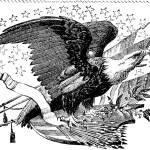 It has been nearly two full months since the last time I shared my musings about the state of our nation. It has not been because of a shortage of topics but rather of feeling a bit overwhelmed at the sheer volume of things to discuss. As we enter the campaign season of the 2016 election, there are so many more issues that warrant discussion, such as the marginalization of the right-of-center American, the near criminalization of those who reject man-made global warming, cooling, climate change, climate disruption, the shaming and near-criminalization of those who hold a more traditional view of marriage, and the defense of national sovereignty. At the end of the spring 2015 semester, I also decided to spend some time reading the writings of the men who influenced those who fought the American revolution and would later write the Constitution of the United States – this has simply added even more topics to the already long list.

This morning I was having an instant messenger conversation through Facebook; soon the discussion focused on something that is near to my heart – the love I have for the United States. Without knowing it, I was being taught something that every generation of Americans beginning in the mid 1780s through the 1990s would learn. It was called "Americanism" and was simply seen as a part of everyday life. Each morning, the school day began with the Pledge of Allegiance (this ended in 1983 for me). Local radio and television stations began their morning broadcasts by playing a recording of the Star Spangled Banner. We were taught to place our hands over our hearts when the flag passed by us in a parade. We were taught about our nation's history, both the good and the bad, and were taught it was acceptable to proclaim we were proud to be American and proud of our national heritage.

The traditional definition of Americanism, as promoted by the American Legion, is an unfailing love of country, loyalty to its institutions and ideals, eagerness to defend it against all enemies, individual allegiance to the flag, and a desire to secure the blessings of liberty to ourselves and our posterity. My father was career Army and served for 26 years, never questioning the places the uniform took him. Men like my father, Admiral Chester W. Nimitz, General George Patton, President and General George Washington, and Major Gregory "Pappy" Boyington were my heroes, followed by Captain Kirk, Iron Man, and Commander Adama. Even at an early age, I knew the latter list was made up of fictitious characters. For me, yes, they were fun to watch on television or read in the comic books, but it was our nation's men (and later women) willing to risk their lives so that I could live free who were my earliest childhood heroes.

Americanism was and for the most part, still is an important part of the program offered through the Boy Scouts of America. I, as many young men have done, joined Scouting while in elementary school and continued on to earn my Eagle Scout award. During high school, a teacher named Greg Garenza had a saying posted above his chalk board: "He who loves his nation best strives to make it best" which would become my personal challenge. One of the most influential commercials I have ever seen, and it remains my favorite Army recruiting commercial, shows the unbroken link of men and women who, through Americanism, served this nation with a great respect, love, and awe this nation's history has earned.
I have no problems admitting this is Army recruitment/propaganda at its best; but it successfully shows how the common citizen has been there to rise to every occasion when our national sovereignty or security were threatened. It's no more evil than a Swiffer commercial or a commercial you might see for your favorite fast food restaurant. It was written for a specific purpose – to encourage men and women to enlist in the Army. The commercial would only reach those individuals who already possessed a common trait – a strong and unwavering love of the nation.
Comments
comments